The wedding season a.k.a the season to 'ace your Indian looks' is just getting started. As they say, old is gold and there is nothing better than doing it the classic way! Are you bored of the regular kurta-pyjama? Well then, it's time for you to step out of the fashion blues and move on for some much-needed inspiration. There are various styles of the kurta-pyjama, thanks to the various states in India that have added their own touch to it – Hyderabadi, Lucknowi or Pathani, making it a versatile look!
Indian looks have always been a top favourite. Not only do they complement the Indian man well, but also makes him look smart and super sexy! You can look for more kurta pajamas online, but first here's a list of 5 men from Bollywood who Aced the Kurta-Pyjama look:
1. Ranbir Kapoor
Many kurta pyjama styles come and go every season, but the contemporary, timeless ones that are here to stay. Spotted at a Diwali party, this look screams exquisite yet toned down! Quite a mix of safe colours (blue and black), the fit is also one that compliments Ranbir's body really well. A relaxed fit is the most recommended; one that's neither too tight nor too loose. It's always a good idea to keep the kurta a tad loose for free movement!
2. Siddharth Malhotra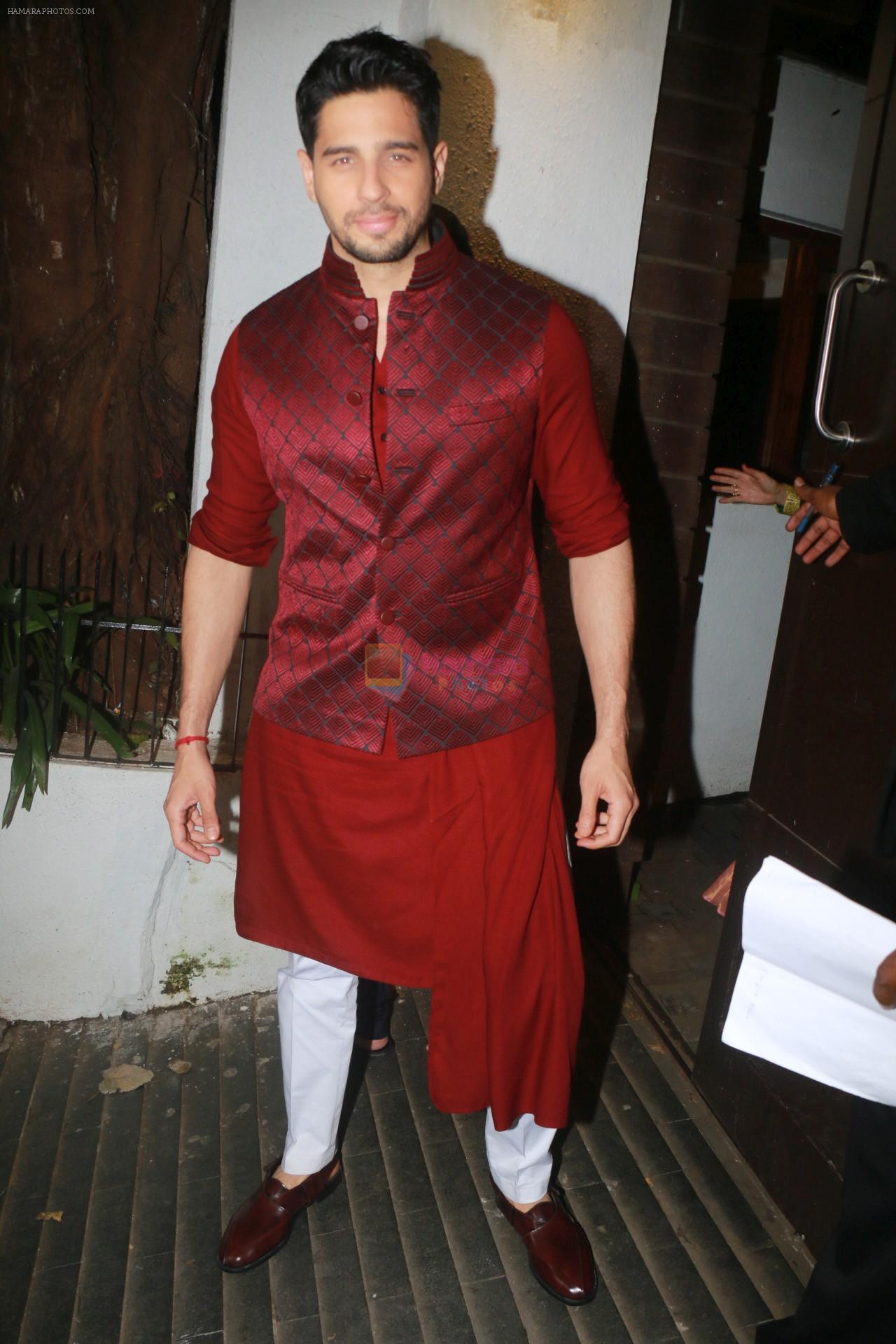 Spotted at Amir Khan's Diwali party, Siddharth Malhotra knows how to woo us every-time with his style statement. He seems to be obsessed with red and shades of red—especially when it comes to ethnic wear, especially the pyjama-kurtas. He has slayed this look with the asymmetrical red kurta paired with a maroon bandhgala and skinny white pyjamas. Brownie points for the loafers!
3. Shah Rukh Khan
Nobody owns the Pathani look like SRK does! Be it Eid or Diwali, the Pathani look is among the popular traditional Indian looks. The look is available in versatile colours and shades but the traditional black one with golden embroidery is one of our personal favourites.
4. Varun Dhawan
Okay so for us, this is our most FAVOURITE look! This is a combination which has been aced like no other: A classic white kurta and pyjama teamed with a custom-made denim bandi. Varun Dhawan's look sets new ethnic goals for a summer wedding attire! Keep your outfit young and chic by adding subtle twists like this one.
5. Shahid Kapoor
This Kurta catches the attention for all the right reasons. Firstly, the asymmetrical cut is totally a stunner and then the snug fit of the collar with an overlap! We are in awe! Gone are the days of wearing only straight line kurtas. It's time to experiment and take your style quotient a whole notch higher.  Doesn't this outfit come across as an epitome of sophistication combined with royalty?
So, those were my pick that you could take some serious inspiration from. The wedding season is here and before you know it, the invites are going to be pouring in so here are the looks that are sure to add the oomph factor to your closet! Make sure to experiment and add to your glam factor with some versatile looks. We would personally recommend you check out Myntra as our personal experience on the platform has been fantastic.